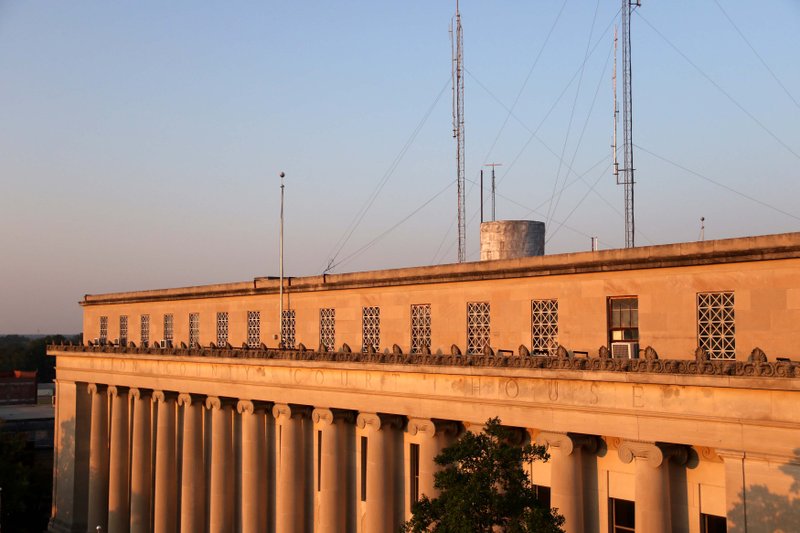 The Union County Courthouse at sunrise Oct. 5, 2019. Local officials shared what they're thankful for this season. - Photo by Siandhara Bonnet
Union County residents' 2019 tax bill will maintain local tax rates after Union County's municipalities decided against raising rates this year. The Union County Quorum Court approved the municipalities' proposed levies at their regular meeting last month.
Each municipality is responsible for passing their own tax levies each year. The county must approve the same year's levy before December, per state regulations.
Voters approve school mills each year, as required by Arkansas law; Union County voters approved their various school districts' millage rates on May 21, while other districts in the state held millage votes last month.
Also included in the levies are mills supporting South Arkansas Community College, approved by voters in March, 1992; a library tax applying to all Union County residents outside the city limits of El Dorado, which imposes its own library tax; and a road tax and general fund tax.
The tax levy applies to all real and personal property owned by Union County residents. Real property is all land or property attached to the land, while personal property is defined as anything movable, such as vehicles, large appliances or furniture, or intangible goods like stocks and bonds.
The quorum court members present at last month's meeting approved the tax levies unanimously. District 4 Justice of the Peace Justin Hendrix was absent.
Union County Clerk Shannon Phillips said there are no changes this year from last year's levies.
At the state level, the highest earners received a tax cut earlier this year as part of Gov. Asa Hutchinson's 5.9 Tax Plan, which will, by 2021, reduce the number of tax brackets from six to three at 2%, 4% and 5.9%.
The federal Tax Cuts and Jobs Act of 2017 also reduced income taxes at almost every level, though it also repealed many personal exemptions. It also doubled the estate tax exemption. The law will sunset for individuals in 2025, though most provisions for businesses are permanent.
Sponsor Content
Comments