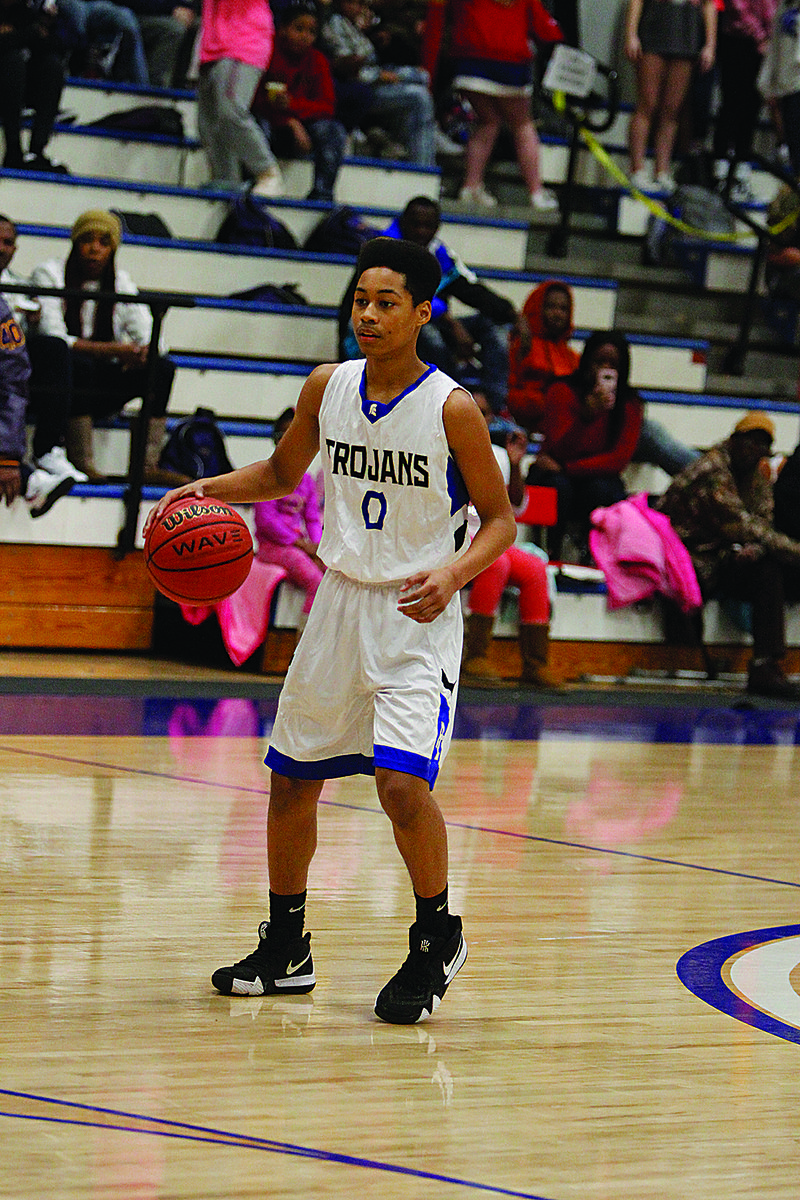 Parkers Chapel's Terrell Malone calls out a play against Junction City last season. Malone will lead the Trojans against Drew Central on Saturday. - Photo by Terrance Armstard
Parkers Chapel's varsity basketball boys are off to an 0-2 start after losses to Central Arkansas Christian and Stuttgart. The Trojans had only six players in those games and expect to be at full strength on Saturday at Drew Central.
Without the football players, point guard Terrell Malone has averaged 29.5 points per game. He scored 24 of the team's 32 points against CAC and 35 of 68 versus Stuttgart.
"He's the one that's carried us through those first two games," said PC coach Josh Langley.
As the only starter on the floor, Malone accounted for more than half of his team's points. He'd rather score less and win more.
"It was fun. It was a good experience for our other players, the younger guys. But I think it'll be better when our football players are back," said Malone, who talked about playing with his inexperienced teammates.
"I was glad to be able to play with them and try to make them better. It helped me a little bit. It helped me learn to create my own shot and pick up the slack when I need to."
Despite the two losses, the first two games could end up being positives for the Trojans. In addition to getting a lot of court time for younger players, Malone was put in a leadership role, which is what his coach wanted.
"I'm expecting him to step up and be a leader this year," said Langley. "I've been challenging him in practice to be a leader."
Most of the athletes at Parkers Chapel play multiple sports. It's encouraged. But for Malone, who's focus has been on basketball, having an off-season program has been beneficial.
Langley said the 5-10 senior has shown noticeable improvement.
"We added a weightlifting period this year. These guys have been in the weight room lifting since school started. You can see a big difference in his arms and his ability to finish around the rim. A lot of times last year he'd go up and have to finish with two hands. Now, he's a lot stronger and he's able to go in there and finish more consistently," said Langley.
"He lives in the gym. He works on his game year-round. I want (players) to play both, especially football. It adds a lot of physicality to them. You have to be physical. We play in a football conference. Those kids are physical, and we have to be able to match that physicality. Being in that weight room has helped him a ton. He's shooting over 90 percent from the free throw line, right now. You can tell he's been in the gym getting his shots up."
Malone was an All-Area performer last season, averaging 12.6 points and 3.3 assists per game.
"His shot is a lot better and his shot has gotten a lot quicker. That's one thing I'll say, he's improved on," said Langley. "Last year he was more of a catch-and-shoot, kick-out type shooter from the 3-point line. Now he's able to make a move, create separation and rise up and knock down shots. That's one thing he's definitely added. I think his handles have gotten better. He doesn't get knocked around quite as much. His handles were good last year but he'd get bumped and thrown off course. He's able to get through that contact now."
Langley said Malone has gained an inch in height in addition to adding bulk. It was clearly a productive off-season.
"I think it's important to take the off-season seriously to make yourself better and not just mess around," said Malone, who played summer basketball with the Arkansas Blaze. "This is going to be a good year for us. I feel like we're going to be pretty good. I think I've gotten better. I've learned to deal with close game situations."
The Trojans went 18-14 last season and advanced to the 2A state tournament. Once the football players get back onto the court and up to game-speed, Langley has hopes for another successful season.
His senior point guard feels the same way.
"I expect us to make it deep in the state tournament. I feel like we're going to be really good this year," said Malone, who hopes the Trojans can carry the momentum from football into the hoops season.
"The football players gave us inspiration on how to keep moving forward and to not give up in tight situations."
Sponsor Content
Comments