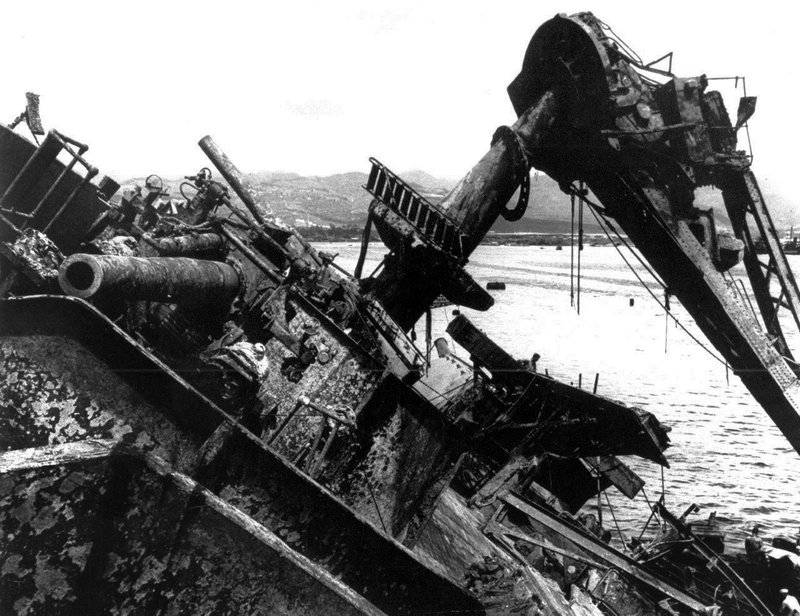 FILE - In this May 24, 1943 file photo, the capsized battleship USS Oklahoma is lifted out of the water at Pearl Harbor in Honolulu, Hawaii. (AP Photo, File)
The El Dorado chapter of the Eight and Forty organization will honor all veterans on Saturday during the group's annual Pearl Harbor Day event from 10 a.m. to noon at PJs Coffee on the square in downtown El Dorado.
The chapter, known as Salon 940, is a small group of local women dedicated to serving Union County veterans and raising money for the Eight and Forty's scholarship program. The event is open to all veterans and their families.
"There are events on Veterans Day, Memorial Day, and we didn't want to do anything that would compete with them," chapter La Chapeau (president) Chris Hicks said. "Pearl Harbor Day is a day we need to remember, and it was an available holiday as well. We get together, eat and socialize."
Organized in June of 1922 as a fun and fellowship group while husbands attended meetings of the 40/8 veterans group, the Eight and Forty held its first convention in New Orleans. The women decided to adopt a public service program focused on child welfare.
Over the past almost 100 years the missions has expanded to providing funding for research to battle all lung and respiratory diseases afflicting young people, beginning with cystic fibrosis. A scholarship program was added in 1957, with more than $1.4 million in nursing scholarships awarded since then. Annual $3,000 scholarships are awarded to recipients who are attending accredited nursing schools or respiratory therapist programs. Applicants specializing in pediatrics are given preference for the scholarship.
Dec. 7 is National Pearl Harbor Remembrance Day, which honors the 2,403 U.S. citizens killed on Dec. 7, 1941 during the Japanese surprise attack on the Hawaiian military base. More than 1,000 Americans were injured, and the next day the United States joined World War II on the side of the Allies. In a speech to Congress on Dec. 8, 1941. President Franklin D. Roosevelt famously described Dec. 7 as "a date which will live in infamy."
For more details on the organization, contact Hicks at 870-866-6862. PJs Coffee is located at 106 W. Main Street in El Dorado.
Sponsor Content
Comments