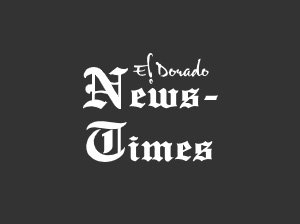 El Dorado News-Times
The 2019 Mrs. Carrie Kendrix Buggs and Rance Olison Holiday Meat Giveaway is set for 10 a.m. Saturday at the American Legion Post 10, 105 Christian Drive, and organizers said they are hoping to help more families put meat on the table this holiday season.
A variety of meat — turkeys, hams, ducks and raccoons — was distributed last year to families in El Dorado, totaling more than 500 units, said Mary Olison, organizer and wife of the late Rance Olison, an El Dorado native and former NFL player.
The event was spearheaded in 2011 by Rance Olison and his family and friends to assist low-income families in El Dorado and San Antonio, Texas, and his loved ones are continuing his his and his mother's, Buggs, legacy of giving.
Rance Olison died in March 2018 due to heart complications. He was 65. His mother passed away at the age of 88 in March 2012, three months after the inaugural meat giveaway, during which 150 turkeys were distributed to local families.
The giveaway benefits residents in El Dorado and San Antonio, the place the Olisons called home and where they raised their family.
Mary Olison said a fundraising gala held recently in San Antonio attracted 18 professional football players to help raise money in honor of Rance Olison, who was a dedicated member of the National Football League Former Players Association, San Antonio-Austin Chapter, and his cause.
Money raised during the gala and donations from individuals, business and organizations support the giveaway in San Antonio and, largely, El Dorado.
To garner even more support, Mary Olison said the organizers working to form a 501c3, nonprofit foundation in honor of Rance Olison adding that she expects the process to be completed by the time the meat giveaway is scheduled in 2020.
"We really need some corporate backing to help it grow even more. We want to be able to give away, 1,000, 1,500," she said. "This is the (ninth) annual and we've fed over 5,000 people in (eight) years and we need to really continue that and make it grow."
Over the years, former and current NFL players and other professional athletes have made appearances at the local giveaway to sign autographs and take photos with attendees.
Former NFL running back Priest Holmes is a regular but Mary Olison said he will not make it to El Dorado this year. Neither will the Olisons' son, Rance Jr.
Both coach high school football teams in Texas.
"Both of their teams are going to the state championships this weekend, so they won't be able to come this year," she said.
However, Mary Olison said members of the National Football League Former Players Association, San Antonio-Austin Chapter, have said "they will have somebody there."
"I don't know who it's going to be yet, but somebody will be there," she promised.
The same eligibility requirements will also apply this year for recipients of the meat giveaway.
Recipients must be on-site, at least 50 years old, on a government assistance program — Social Security, Social Security Disability, food stamps, Medicare, Medicaid, etc. — and their annual income must be at or below the Federal Poverty Level guideline of $24,600 a year for a family of four.
Applicants must also present proper identification or any other proof to demonstrate age and need.
For more information or to donate, call Mary Olison at 210-601-7512. Also, call 210-342-8484 to send a donation to an account that has been established at Firstmark Credit Union in San Antonio. The account number is 743710.
Sponsor Content
Comments