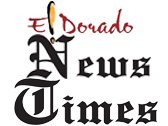 News-Times
Junction City's offense had its moments on Friday, but the defense was, pretty much, rock solid all night in a 46-14 win over Des Arc. The Dragons improved to 10-1 and will host Gurdon this week in the semifinals of the 2A state football playoffs.
Des Arc (9-3) was averaging 48 points per game during its eight-game winning streak. The Dragons held the Eagles to their lowest output of the season with their second touchdown coming in the final moments of the fourth quarter.
"Defensively, very proud. They've been rolling up points on everybody," Junction City coach Brad Smith said after the game. "Our kids played great the second half. Defense played great the whole night, for the most part."
Junction City stopped Des Arc on fourth down five times and forced three turnovers.
Kam Torrence had 16 tackles, including nine unassisted. Kyle Kidwell had seven tackles with two fumble recoveries. Jamarko Singleton had seven solo tackles, including two tackles for loss. Kevin Newberry had six solo tackles. Jakiron Cook had seven solos, two assists and one interception.
Before Friday night, Des Arc had not scored less than 21 points all season and had five consecutive games of 40 or more points.
Sponsor Content
Comments