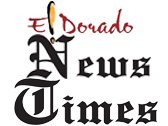 News-Times
Junction City coach Brad Smith used a lot of boxing analogies when describing his team's hard-fought 46-14 win over Des Arc on Friday in the 2A state playoffs. The Dragons led 14-8 at the half before scoring 26 unanswered points in the third quarter.
"If you just keep swinging, you're going to connect with the chin. When you connect with a chin, when he gets back up you've got to go back for the chin and we did that," Smith said and added, "If you swing long enough and hard enough, you'll find a chin somewhere."
The defending state champion Dragons (10-1) will host Gurdon in the semifinals on Friday. The program has advanced to the semifinals 15 of the last 19 seasons.
Junction City has landed early knockout punches throughout the season. The Eagles managed to take the Dragons into the fourth quarter before finally succumbing to body blows. Junction City had 40 rushes for 339 yards while completing 3-of-9 passes for 129.
But those passes proved pivotal. Brady Hutcheson connected with Devontay Gilbert for a 50-yard touchdown for the Dragons' first score. He hit Harlandus Frazier for a 59-yard touchdown in the third quarter.
"You've got to get people off of you. We tried to run," said Smith. "They play defense like we play. We don't play defense with one guy. We play with 11. They do, too. I love the way they play defense. They look a lot like us on defense. You very rarely see a solo tackler. It's three to four to five guys everywhere."
Des Arc dared Junction City to throw the ball. The Dragons' persistence paid off in the second half when Jakiron Cook did the bulk of his damage in a 228-yard rushing performance. Cook had a 62-yard touchdown run in the second half and another 42-yard scamper that set up a score.
"We stayed off of him for 11 weeks. Now, I hope he's got a good blanket on his back because we're fixing to ride that horse," Smith said of his senior back.
Junction City held the Eagles to 267 total yards, all on the ground on 61 attempts. Des Arc fullback Jackson Morton had 40 carries for 165 yards.
Gurdon (10-3) led 20-17 at the half before winning at Magnet Cove 34-17. Jameson Threadgill rushed for 183 yards and two touchdowns on 31 carries. Quarterback D.J. Anna was 5-for-7 passing for 108 yards and two touchdowns.
While Des Arc was a one-dimensional running team, the Go-Devils appear to be a dual threat offensively. Like the Dragons, Gurdon showed it was a second-half dominant team last week.
Whoever starts slowly this week could find itself in a hole too deep to escape.
"We did that in the first half against Hector, too. That's something we've got to work on. When it doesn't go the way you think it should go, you have to make it go your way. You have to make it go your way. That will come with maturity, hopefully," Smith said.
"We've got some young guys who haven't been in a lot of these. They were kind of shaky at first. They haven't been in many wars. Our warriors were pretty solid with it. We just have to get in more wars. You've got to survive wars to be good at it."
Smith credited his assistant coaches for their work and the players for their persistence. The road to Little Rock could get bumpy this week. But at least it goes through Junction City.
"Thank you to our fans for coming out and supporting us. We had a bunch in the crowd," said Smith. "Keep supporting our Dragons."
Sponsor Content
Comments