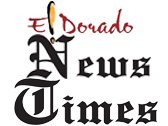 News-Times
In the current decade, few schools can match the success Smackover's girls golf program has had.
Outside of 2013, the Lady Bucks have finished in the top five in the state tournament every year, including a state title in 2012.
Their run also consists of a trio runner-up finishes in 2011, 2015 and 2017 along with third-place finishes in 2010 and 2018.
But as the 2019 season gets underway, the Lady Bucks enter as a team that lacks experience.
"Twelve girls have come out, and I don't have any seniors, so we're real young," Smackover coach Mike Poff said. "We graduated three last year, so we have only one person (Karli Willett) who has returned back that played in any golf matches last year. We're going to be real young. We're going to try to learn as the year goes along and try to get better and get to the point where we can compete real well in the district and try and qualify for state."
Trying to extend their streak won't be easy considering the defending 3A state champions reside in their conference.
"It will be hard for us to where you're competing in the top three level," Poff said. "The one who won the state championship was Bismarck, and they're in our conference. When we go to our district tournament, Bismarck is hosting, and the team that finished third behind us last year was Centerpoint. I think they have most of their girls back from last year. It's going to be a battle for us to try and get one of those top two spots, because only two spots go. We want to get to the point to where we're competing for that."
Smackover's boys golf team has had some success of their own in recent years with a third-place finish at the state tournament back in 2015, and Poff said he is looking for steady play from his seniors.
"We have four boys, and I have two seniors in Josh Saulsbury and Braden Doherty," Poff said. "They're improving their game and trying to get to the point where they can be a little more consistent. They can shoot the score that we need, but they haven't been consistent with that scoring yet. You've got to get that consistency. You don't want to come out and shoot 39 one day and 45 the next or 80 one day and 90 the next. You want to be consistent to where you're around that score all the time, so we're having to work on being a little bit more consistent on what we're doing and understand how to prevent the big numbers when you hit a bad shot."
As is the case with the Lady Bucks, the 5-3A in boys golf is stout with Fountain Lake finishing as the state runner-up last year. The league also has one of the top individual performers in Prescott's Tyler Doucet, who made the All-State team last year.
"You've got Fountain Lake, who is really good," Poff said. "Bismarck has a good team. We're playing at DeGray (Lake State Park Golf Course), and that's their home course for our district tournament. They're always good there. Prescott has a kid that's been really good the last couple of years, so we've had some good teams come out of our conference."
For Poff, the next month will be about growing and getting his squads ready for the district tournaments.
"We're just moving forward, trying to get as good as we can get," Poff said. "It's not how good we are in August, it's how good we are at the end of September and October. That's where we want to be."
Sponsor Content
Comments