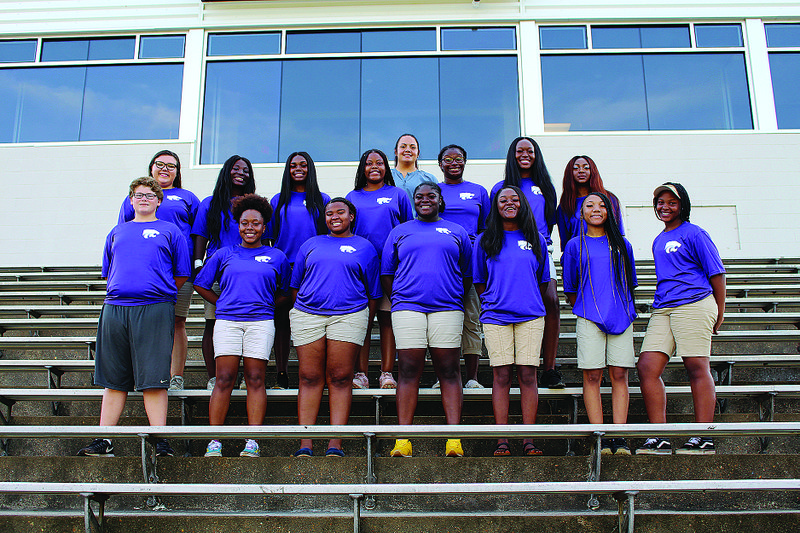 Morgan Atkins, top center, became El Dorado's first full-time athletic trainer this season. Her staff includes, bottom row, left to right, Judd Qualls, Kayonja Frazier, Calicia Barnes, Debreshia Pierce, Ke'nija Welch, Starla Moody and Tiara Washington. Top row, left to right, Hannah Harshaw, Jourdyn Smith, Christin English, Tatianna Jordan, Makenzie Caver, Kiana Hickman and Aniya Miller. - Photo by Sarah Primm / News-Times
When Steven Jones replaced Scott Reed as El Dorado's head football coach, he became the man in charge of the Wildcats' program. When it comes to player safety, however, Jones admitted his word isn't the law of the land.
"It's Morgan's Law," Jones said. "If she tells us we need to do something differently, we're going to listen to her. She is extremely trained in that area. We really follow what she has for us as far as the heat index and as far as returning to play. On Friday night, if we have someone we suspect might be injured, we would not put that kid back on the field until Morgan has cleared them."
Morgan Atkins came to El Dorado as the school's athletic trainer this year. Atkins, a 2001 graduate of Harmony Grove, has 15 years of experience as an athletic trainer, including the previous eight at Smackover.
Atkins, who played basketball and softball and threw the shot and discus as a high school athlete, was a fixture at Smackover athletic events. She said leaving wasn't easy.
"It was one of the hardest decisions I ever made. I love Smackover. It was hard for me," said Atkins. "But this was the best move for my family. I had to put my selfishness aside, but I love being here. So, it was a good move.
"I was really wanting to put my kids in a great daycare. Daycare was a little expensive. The actual raise I got coming to El Dorado, fully made that possible. I was able to get my kids in and now we can pay for it. They're in a place I know they'll be taken care of."
Atkins has quickly transitioned into the Wildcat athletic family. She's a fixture at El Dorado football practices and will be active in the entire athletic program.
"Football takes a lot of my time. I try to stop in and look in on other sports. But a lot of what's been going on is if a coach needs me, they just call me, and I'll leave football and go to attend to the athlete in whatever sport," said Atkins, who will be present at all varsity football games, home and away. She will be at home games for the other sports, except for the spring when there are multiple games going on simultaneously.
"I'm going to do my best to be at the sport that will, usually, statistically occur the most injuries and I'll be a phone call away for everybody else," she said.
El Dorado athletic director Phillip Lansdell said Atkins is the school's first full-time athletic trainer.
"I've known her since she started and Smackover and knew what kind of job she did," he said. "She has a very good knowledge of sports medicine, a strong work ethic, is a good role model and she's a very good person that cares about kids."
"We're really excited to have Morgan Atkins onboard with us as our athletic trainer," said Jones. "She brings a lot to this school district. She'll cover all of the sports here at the varsity level. She's a game changer. One of the first things she told us was, it was her job to keep players on the field, not to take them off. That really shows she cares about what she does. She wants the athletes to be ready to play and have them in the best possible shape to be in the game. She takes care of anyone that's injured but her main push is to have all 100 of our players ready to go on Friday night."
The job of athletic trainer has taken on added importance in recent years after studies shined a light on concussions and the dangers they present. It takes minimal training to tape ankles and hand out aspirin. Heat-related injuries along with concussion protocol have made it necessary to hire professionals to care for the safety of athletes.
While Jones will call the plays on the field, Atkins will have the final say when it comes to player safety.
"I would like to think so," she said with a smile. "Coach Jones and I haven't butted heads at all, yet. We talk before practice starts. If it's going to be a hot day and that heat index is skyrocketing, we talk about maybe going out early, maybe going out before we lift weights or vice versa. All I have to do is say the word. He is very high up on, 'let's keep them safe.' That's not been an issue at all."
Sponsor Content
Comments