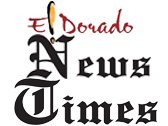 News-Times
Returning to the Murphy Arts District's Griffin Music Hall tomorrow night is World Class Revolution wrestling.
The event will feature "Sycho" Sid Vicious, World Class Champion and former WWE superstar, who will be taking on the legendary former WWE superstar M.V.P. Chavo Guerrero Jr.
Also wrestling at the show is former WWE Tag-Team Champion Trever Murdoch, former WWE Cruiserweight Champion Kid Kash, World Class Revolutionary Champion Damon Windsor, the Arrow Club, El Fuego Del Sol, "Retro Randy," former NWA World Ladies Champion Barbi Hayden and Sahara Se7en.
Doors open at 6 p.m., with bell time at 7 p.m. Ticket prices start at $10, with VIP packages available for $60, which include Golden Circle/Ringside seating, early event entry at 5:30 p.m. to meet the starts, a commemorative event poster and a free World Class Nexus online pass.
"El Dorado is actually home to our first ever television show, so it's real meaningful to come back there," said Jerry Bostic, CEO of the company. "I think everybody that went last time had such a great time, I hope that everybody comes out again."
Bostic said since coming to El Dorado last May, their TV show has progressed and they have been incorporating movies and television into professional wrestling.
Bostic added that they will be filming a show based on their version of Smokey and the Bandit while in El Dorado tomorrow.
"That's our niche now, doing TV shows and movies and incorporating them into wrestling," Bostic said. "I think for the whole city, for us to be able to go out and say 'Hey guys, people of the world, this is El Dorado, Arkansas, you should go there.'"
Bostic said they will be filming all over the city tomorrow and Mark Givens, vice president of talent and relations for MAD, will have a role in the show. Bostic added that people out and about Saturday will have a good chance at seeing them filming, stating "don't be afraid to come up and say 'hey.' We love everybody that supports us."
Bostic said the event is family-friendly and that last time he came to El Dorado, he spoke at one of the elementary schools.
"It's important to me that it's a product that you can take your whole family to see, and it definitely is that," Bostic said. "It's like a three hour get-a-way and you can go cheer your heroes, boo your villains and have the time of your lives."
Bostic said World Class Revolution is different from WWE in a lot of ways. World Class Revolution represents a lot of different things including diversity, equality, family and love, Bostic said.
"We're a very personable experience compared to WWE," he said. "You can come to one of our shows and meet everybody that's a part of it. We'll go around communities and do things before hand and everything we do is free of charge, including motivational speaking to the kids."
Bostic noted that they are very charitable as well. "WWE obviously drives the wrestling industry, but at the same time, our goal is to change wrestling from the inside out," he added.
To view their wrestling channel, Bostic said to go to the local Nexus affiliate and request World Class on your television. The company also has an online network called The World Class Nexus, which features their weekly television shows.
For tomorrow's show, Bostic said everybody can expect a very high quality professional wrestling show, and "you're also going to be able to see something you probably have never seen in El Dorado."
"You're not only getting a world class quality wrestling show Saturday, you're going to get the experience of a life," he added. "And whatever is going on in your lifetime, let that go for three hours and sit back, relax and trust that we're going to take care of you."
For more information, visit worldclassprowrestling.com or visit their facebook page at www.facebook.com/worldclassrevolution/.
Kaitlyn Rigdon can be reached at 870-862-6611 or [email protected]
Sponsor Content
Comments