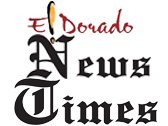 News-Times
Directors Mike Means and Bill Meyer are inviting the community to auditions for the fall theater season opener, "Peter and the Starcatcher."
Auditions will be held on Monday and Tuesday. Auditioners may attend one or both nights.
Registration begins at 6 p.m. on audition nights, with actual auditions beginning at 6:30 p.m. There is no advance preparation necessary for these auditions, but Means said the directors would "like to see you do a cold reading from the script, sing a song of your choice in a swashbuckling tone — it can even be 'Happy Birthday' or 'Twinkle , Twinkle' — and also hear your attempt at a British accent, no matter how bad it is."
The show includes a bit of music, but mostly of the pirate variety, and the part of Molly is the only one that needs to be filled by a true singer.
"Auditions are meant to be fun, not nerve-racking," Meyer said. "So come on out, have fun and relax. We'll have a big time."
There are parts for 11 men, three women and three boys (ages 13-19). Among those parts are the Orphans: Peter, Prentiss and Ted. The British subjects include Lord Aster, his daughter Molly, Mrs. Bumbrake (Molly's nanny), Capt. Scott (the commander of The Wasp) and Gempkin (the schoolmaster).
Aboard the ship, The Neverland, will be Bill Slank, Alf and Mack, a group of no count sailors. In charge of the rival ship, The Wasp, is the ruthless pirate known as The Black Stache and his bumbling cohorts, Smee and Sanchez.
Rounding out the cast are the Natives, consisting of Fighting Prawn, his son Hawking Clam and a teacher. There is also an ensemble of sailors, seamen, seafarers, orphans, pirates, mermaids, mollusks and narrators to be filled.
"Peter and the Starcatcher," sponsored by Murphy-Pitard Jewelers, is a swash-buckling, rambunctious story of how a miserable orphan boy becomes the legendary Peter Pan. In this grown-up prequel to "Peter Pan," a cast of brilliant actors playing pirates, mermaids and the Lost Boys set out for an adventure filled with ingenious stagecraft and the limitless possibilities of theatrical storytelling. The story is an adventure on the high seas and on the faraway Mollusk Island, where Peter and his mysterious new friend, Molly, overcome bands of pirates and thieves in their quest to keep a magical secret safe and save the world from evil.
For more information on auditions, call the SAAC office at 870-862-5474 or visit saac-arts.org SAAC is located at 110 E. Fifth St., El Dorado.
Sponsor Content
Comments