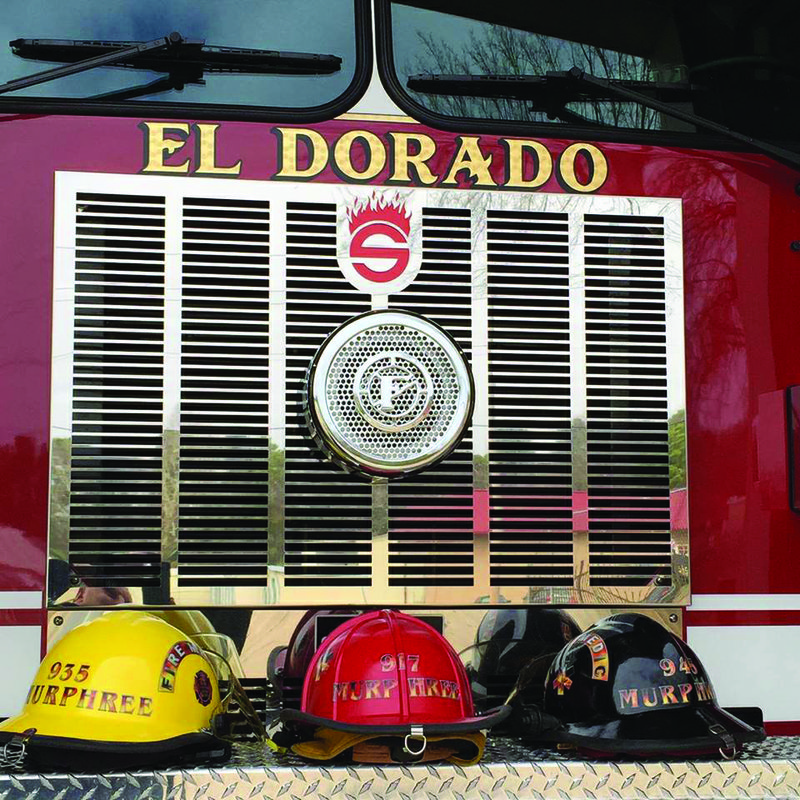 Three generations: Dennis, Shelby and Justin Murphree have a 60 year legacy as firefighters. The three men all served with the EFD.
The three-generation firefighting legacy of El Dorado's Murphree family came to a close last month when the last in the line, Justin, retired after 25 years of service.
The tradition started in 1958 when Dennis Murphree joined the El Dorado Fire Department.
"It was just something that had kind of been in my mind ever since I was a little kid," Dennis Murphree said of his decision to join to fire department. "I always looked up to them – that and the police department too."
Dennis Murphree worked with the EFD from 1958 until 1985. He said being a firefighter was a mixed bag, but that he enjoyed his time with the EFD.
"The good times were just when everything was going good [and] we just sat around and talked and what-have-you. But the bad times [were] when we had to go out and pull somebody out of a burning house. … Those are some of the things that stick with you," he said.
Dennis Murphree said he didn't push his son or grandson to be firefighters; however, he and his wife, Pat, were proud of them nonetheless.
"I was kind of honored that they decided to go into it, you know, just because I was a fireman," he said. "I don't know whether they thought anything about it at the time – we never discussed it."
"I was proud that [Shelby] wanted to [join the EFD]," said Pat Murphree. "But then – you know, you always have a little fear there."
Dennis Murphree said he was initially a little worried when his son Shelby decided to join the EFD; however, he said he tried to prepare him by telling him about the different types of fires and their associated dangers.
Pat Murphree also had to deal with knowing her husband, son and grandson were exposed to danger on a daily basis. She said one instance in particular stood out as a time she was worried for Dennis Murphree.
"There were some bad moments. Like when a train derailed in Norphlet and I was at work and the news was on and I knew he was fighting it. I near about had a heart attack because they kept thinking it was going to explode," she said. "There have been some real scary times through all these years for all three of my men."
She said seeing her son and grandson following in their father's footsteps was special to see.
"All of their hearts were with serving the community. … This is the first time in 60 and a half years that we haven't had a Murphree at the fire department," Pat Murphree said.
She said Dennis Murphree's time with the EFD was a good one for the family.
"It was a happy time," she said. "He went through the ranks until he made deputy fire chief. That was an honor … I guess I was just proud that he was serving the community."
Dennis Murphree retired as a deputy fire chief, a second-in-command position in fire departments.
Dennis Murphree said most firefighters worked second jobs to supplement the income they got from the fire department. In addition to his career as a firefighter, Dennis Murphree dug ditches, laid pipelines and sold cars; he is no stranger to hard work.
"Me and my wife have been working hard all our lives," he said.
After he retired from the EFD, Dennis Murphree took a job as a security guard at the hospital in El Dorado. Meanwhile, he and his wife, Pat, were also opening their own business, Pat's Glass.
Now, Dennis and Pat Murphree are retired. They travel some and still live in El Dorado. Pat Murphree said they have 11 grandchildren and 15 great-grandchildren.
Shelby Murphree followed his father's footsteps, joining the EFD in 1985 and retiring as a captain in 2009. He and his son, Justin, worked concurrently for several years before his retirement. He, too, worked a second job when he was with the fire department, training as an electrician and a heating and air technician.
He said his time with the department was important for him and his family.
"Once you get up there it's just like a big family," he said. "You get to know everybody, you're living with them. It's kind of like a family away from home. There were a lot of good times."
Shelby Muphree said firefighting was a big part of his family's life. He went on to say that although he didn't push his son Justin to join the EFD, it was nice that he did.
"I raised my family on it," he said. "It feels good [that] he wanted to do it. I didn't try to persuade him or anything like that."
Now, Shelby Murphree runs Murphree Electric and Murphree Heating and Air. He's glad to be done with 24-hour shifts, he said.
For Justin Murphree, becoming a firefighter was a no-brainer.
"I almost felt obligated, to an extent, since my dad and my grandfather had both retired from there. It's something I've always wanted to do," he said.
Justin Murphree started his career in 1992 as a volunteer firefighter in Parkers Chapel. He said he got his EMT certification in 1993, then went to work at Ouachita County Hospital before getting his paramedic's license in 1996. After that, he spent five years working as a paramedic and a deputy sheriff at the Union County Sheriff's Office. From 1992 through 2000, he served as a combat medic with the Arkansas National Guard. He was also the police chief in Norphlet for a period in a part-time capacity. He joined the EFD in 2006.
"It means a lot. It's been a very rewarding career," Justin Murphree said. "I've enjoyed not only helping people in the community but [also] the people I've met along the way."
Justin Murphree was selected as Firefighter of the Year in 2009. He said his favorite memory from his time with the EFD happened as it was coming to a close.
"My shift threw a party at Antiguas and pitched in and bought me a nice AR-15 as a going-away present, with a bunch of engravings on it. … They made a cake in the form of an ambulance and had my name on it and everything, so it was really a nice to-do," he said, describing the retirement party his co-workers at the EFD threw him. "I was really honored that they'd done that for me."
Throughout the years, all three Murphree men worked at the various fire stations around town. Now that he's leaving the profession, Justin Murphree will move on to teaching others about public service.
"I have taken the EMS program director job at [South Arkansas Community College], so I'm over the paramedic program now," he said. "I still will be in contact with the same people, teaching their new employees and any employees that want to further their education, I'll be able to do that from here."
Justin Murphree said the transition to "normal" hours has proven to be tough for all involved, but that he knows it will be worthwhile for him and his family.
"It's totally different now, being at home every night and looking forward to having all the weekends off now," he said. "It'll be a big change, not only for me. [Working at the fire department] cut into my wife's and daughter's times that they spent at the house, so they've got to get used to me being home every night as well."
He said he doesn't expect his daughter, Rachel, who is in the 10th grade, to join the profession; instead, he said she has expressed interest in entering the medical field.
"I think, sadly, it's ended after 60 years, [but] I think that's a pretty measurable and honorable amount of time to dedicate to our community," he said.
EFD Chief Chad Mosby agreed.
"I know that Justin, he'd been with us for 12, 13 years, but he had a lot of – he had some military experience, I believe, and he had a lot of time out at the Sheriff's Office, and so he has followed in his dad and grandfather's footsteps of being a public servant," he said.
Mosby worked with both Justin and Shelby Murphree. He said both were dedicated public servants for the better part of their lives. Mosby said that while family legacies are relatively common in the firefighting profession, they're more rarely seen in smaller departments like the EFD.
"A lot of that really stems from the fact that if you grow up around someone that is dedicated to public service, then a lot of times you want to follow those same pathways," he said.
For the Murphree's, that seems to be the case. Both Dennis and Shelby said they didn't push their sons into the profession; instead, it was a calling.
Caitlan Butler can be reached at 870-862-6611 or [email protected]
Sponsor Content
Comments