Veronica Smith-Creer said she will be ready to roll up her sleeves and tackle the challenges that are facing the city when she takes office Jan. 1 as El Dorado's next mayor.
Smith-Creer emerged as the victor Tuesday in a three-way mayoral race, with only 87 votes separating her and leading challenger, Bill Luther.
Independent candidate Trang My Lu came in a distant third with 50 votes.
"It's still so overwhelming," Smith-Creer said breathlessly while speaking with a News-Times reporter during her victory party at the Union County Democratic headquarters at the corner of Jefferson and Elm.
Smith-Creer garnered 2,447 votes (50.4 percent) in a historic win, becoming the first woman and first African-American to occupy the El Dorado mayor's office.
Luther, a Republican, landed 2,360 votes in his third election in 2018.
The retired Energy engineer/customer service manager was among a trio of candidates, which included incumbent Mayor Frank Hash, who threw their hats into the ring in the Republican preferential primary in May.
Luther and Sgt. Chris Lutman, community relations supervisor for the El Dorado Police Department, were the two leading candidates in the primary and faced each other in a runoff election in June.
"I've run three (mayoral) races this year. I won two and I lost this one by 87 votes," Luther said.
After the final tally was counted Tuesday in the unofficial election results for Union County, Luther immediately made his way from the county courthouse and across Elm Street to the Union County Democratic headquarters to congratulate Smith-Creer, whom he called a friend.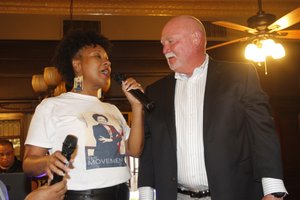 Photo by Terrance Armstard
Veronica Smith-Creer and Bill Luther talk during Smith-Creer's victory party Tuesday at the Union County Democratic headquarters at the corner of Jefferson and Elm. Smith-Creer, a Democrat, defeated Bill Luther, a Republican, in the El Dorado mayoral race by 87 votes.
"I'm proud of her and I wish the best for her and for El Dorado," he said. "It was a good, close race. It was a clean, positive race. Both sides never went negative."
Smith-Creer expressed similar sentiments, noting that she and Luther previously served together on the El Dorado-Union County Chamber of Commerce board of directors.
"We saw that some of the races were getting a little nasty. Bill and I know each other. There was no mud-slinging, no negativity from either side. He came right over here and congratulated me," Smith-Creer said. "We always maintained that no matter who wins, El Dorado would have a great mayor."
Luther said he offered his assistance to Smith-Creer as she readies for the start of her mayoral term.
"I told her I would be available to her and to just give me a call. I want to use my background and experience in creating jobs, economic development and that sort of thing," he said. "I still want the best for El Dorado."
Luther said he does not plan on making another run for El Dorado mayor. However, he said, he would still like to serve on city government in another capacity.
"I'd like to serve as alderman of Ward 2. That's the only thing I've got on my horizon. I don't think I'll be running for mayor again," Luther said, adding, "I want to thank the folks who worked hard for me. I feel like I let them down, but they have nothing to hang their heads about."
Smith-Creer said she too was thankful for the community support she received during her campaign and for the large voter turnout in El Dorado and Union County.
"I've been overwhelmed from the beginning by all of the support," she said. "I'm so grateful for the people who came out and voted. Voter turnout was amazing."
When asked her thoughts about the election results Tuesday, Smith-Creer said, "I didn't have any anticipation as far as the numbers were concerned. It didn't matter to me how much it was, I just wanted it to be final."
Smith-Creer said she is looking ahead to day one in office, where she plans to implement changes based on what she identified as key issues during her campaign: street maintenance, beautification and attending to the needs of under-served neighborhoods in El Dorado.
Tia Lyons may be contacted at 870-862-6611 or by email at [email protected]