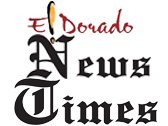 News-Times
Citing too many unanswered questions, the Union County Quorum Court voted 8-2 Thursday to table a discussion about the possibility of receiving new voting machines from the Arkansas Secretary of State's office.
Document
May 16 letter from Secretary of State's office
View
The issue began earlier this year, when the state began to offer assistance to counties to purchase new voting machines. But in Union County, that offer has been rescinded more than once, leaving local officials unsure of how to proceed. Officials also voiced concerns with replacing equipment before the November election.
Document
June 6 letter from Secretary of State's office
View
Last month, Union County Judge Mike Loftin received a letter from Kelly Boyd, chief deputy Secretary of State, offering the county new voting machines for elections, for which the state would pay 50 percent of the costs. The letter stated that the total cost for the new machines for Union County would be around $440,000, using Election System & Software (ES&S).
In the same letter, Boyd quoted a Union County justice of the peace's statement to the News-Times, published on May 13, and citing those comments as a reason to rescind the offer.
According to the May 16 letter, Boyd was "surprised" to see comments from Justice Greg Harrison, a former election commissioner, in the News-Times that stated that the equipment being offered by the state was reported to have vote flipping issues, a lack of a verified paper trail and internet access requirements, among other concerns that Harrison voiced. Boyd wrote that none of Harrison's concerns were factual, calling several of them blatent falsehoods.
"I have no idea why Justice of the Peace Greg Harrison made these comments, nor frankly do I care," Boyd wrote. "What I do care about is not creating an issue when all we are trying to do is assist Union County."
Then, in a letter dated June 6 and addressed to Justice Dean Storey, Boyd wrote that the Secretary of State's office was prepared to provide funding for 100 percent of the "Integrated Election Equipment System."
Boyd said the Secretary of State's office would provide 20 DS200 precinct scanners, 54 express vote units, 54 express vote kiosks, 38 ExpressPoll Tablets with attachments, 38 ExpressPass printers, plus training and on-site election support and more.
But last Wednesday, Justice Mike Dumas received an email from Boyd stating that the offer was rescinded once again.
During the meeting Thursday, Storey said he talked to Boyd the night before, who communicated that the offer was still "on the table."
"Yes, it's been to and from on whether they will or whether they won't (provide the machines), but if this quorum decides that we want to take advantage of the $440,000 that the state is offering, then we need to go ahead and approve it," Storey said.
Harrison said that Ouachita County agreed in April to change their machines to ES&S, "but they have still not received the machines." Harrison added that Ouachita County has agreed to give Union County their 40 machines.
"I like 100 percent of anything," said Justice Cecil Polk. "But we're right here close to an election. Are we going to have time to get our poll workers trained? Do we have time to do it? I've still got some reservations."
Polk was referring to the Nov. 6 general election, where several local races as well as statewide and congressional races will be on the ballot.
Harrison said that in order to get the new election machines, the county would have to turn in the election equipment that is currently used and use the new machines in November.
Union County has 54 voting machines that are 18 years old from Harp Enterprises, Inc. Harrison said the life span of the ES&S machines are six to eight years.
"We owe it to the people that put us around this table to be proactive and stay up with modern times," said Justice Will Crowder. "There are 27 other counties within the state of Arkansas that are already on this program and I believe that I owe it to my constituents to do the proactive part in updating this equipment."
Harrison said he has contacted other counties, including Saline County, Lonoke County and Pulaski County, who have decided to wait until a non-election year to move forward with the replacements.
"And also one of their main reasons why they want to (wait) is they want to see what the new Secretary of State is going to request for voting equipment," Harrison said, referring to the fact that Secretary of State Mark Martin will be out of office come January. Martin is unable to run for re-election as he is term-limited.
Union County Clerk Shannon Phillips said there hasn't been any issues with the current equipment, though she's not opposed to getting the new machines.
"I think that we need to wait until we see who's going to take office, what their plan is and go with that," she said. "I mean it wouldn't make sense for us to take the machines, get rid of the machines that we have and then turn around next year and possibly have to purchase something totally different and learn something totally new."
Another issue, Harrison said, is that ES&S machines do not work in places where there is no internet access.
"If we move forward with this and it requires the use of these machines in November, we would lose Three Creeks and Felsenthal polling locations right away because they wouldn't have access to DSL or broadband," Harrison said.
In Boyd's May 16 letter, he wrote that the equipment does not have to be connected to the internet to function, noting "the voting equipment is not capable of being connected to the internet. The electronic poll books may be connected to ensure on an immediate bases a voter has not already voted if a county utilizes vote centers, but this is not a requirement. The only required internet connection is for the Clerk to connect with the Secretary of State to report voting results."
Loftin said he would support the new machines, but not before the November election.
"You don't have time to train the poll workers and if you have to consolidate polling places, you don't have time to get that done," Loftin said. "You're going to have mass confusion Nov. 6 if you try to force new machines on these voters this quick."
Justice Carolyn Jones said she had a problem about consolidating voting places in the county. She said she does like that the county would be saving money, but "sometimes free money is not good money."
"We do not need to rush into this, especially when you have a fickle person in charge," Jones said. "He takes the deal on and off the table, but we need to think about what's best for the majority of our people and stop thinking about cutting down the number of voting places that are available."
Loftin said he would veto the vote if the Quorum Court opted to accept the new machines.
"Is it mandatory that they be used in the November election? Nobody has told me that," he said. "Before I know that, I'm going to veto the vote."
Justice Justin Hendrix said there were too many factors that they needed to find out before making a conscious vote on the machines.
Polk said he would rather have the subject tabled until the quorum could have some questions answered, to which Jones seconded.
The quorum voted 8-2 to table the discussion till a later date. Storey and Crowder cast the opposing votes.
Storey said he thinks the quorum made a mistake in not taking advantage of the offer.
"I think, based on what other counties have done, this was a big mistake in my mind, but the others chose to go the other way," he said.
When contacted by the News-Times, Boyd said that if members of the Quorum Court had questions, they could contact him.
"If they ask me for the equipment, I would be happy to talk to them about it," Boyd said. "Right now, I don't have any indication that they're going to."
A special meeting has been called for 10 a.m. Wednesday to discuss the election equipment from the state, which Boyd is expected to attend. The meeting will be held in the third floor Quorum Courtroom in the Union County Courthouse.
Kaitlyn Rigdon can be reached at 870-862-6611 or [email protected]
Sponsor Content
Comments