If you are familiar with the Union County Animal Protection Society's annual calendar, seeing shelter dogs dressed up in couture clothing is nothing new.
But the dogs are dressing up again for a different reason – to be stars in the internationally acclaimed pet couturier Anthony Rubio's coffee table book.
The book, which is scheduled to be released in February, will feature a mixture of Rubio's client's dogs, dogs that are looking for their forever home and "famous" social media dogs.
Photo shoots are taking place in New York, Toronto, Los Angles, Sacramento and El Dorado. Rubio hand picked photographers to take the photos, including Tammy Swarek of El Dorado.
Rubio has provided the couture clothing for the UCAPS calendar in the past, with Swarek being the photographer each year. The UCAPS calendar, which is part of the Shelter Pets Project, has been published for three years as a fundraiser for the shelter and to encourage adoption.
Twenty-nine dogs were photographed at the South Arkansas Arts Center between July 28-30. Many of the dogs were UCAPS shelter dogs, along with several family-owned "celebrity" dogs. Each dog received a one-hour photo shoot session for the book.
"This is not our norm event for South Arkansas, especially El Dorado," said Sandy Maguire, president of the UCAPS board of directors. "The dogs love it. They get attention that they don't always get elsewhere and they thrive on it."
Maguire said several of the families did not want to fly to New York for the photo shoot, so they traveled to El Dorado. Owners and their dogs traveled from North Carolina, Florida, Atlanta, Oklahoma and Chicago to be photographed for the book in El Dorado.
Swarek has been a professional photographer since 2010. She said while working with Rubio on the Shelter Pets Project, they became friends and had a lot in common.
"He kept telling me he had a project but he wouldn't tell me what it was," Swarek said. "He kept me in suspense for a couple of months and then when he told me about the book opportunity, he said 'you're the first (photographer) … I want you,' and that was pretty amazing."
Swarek and her business partner and best friend, Tammy Michael, flew to New York to meet with Rubio. She said in an email that he took the time out of his busy schedule to show Swarek and Michael around the city.
"(Rubio) is not only creating jaw dropping pieces for us to shoot, he is also busy designing for his next New York Fashion Week show," Swarek said. "To be included in their selection is unbelievable."
Photo by Terrance Armstard
Liz Slater, far right, takes a photo of photographer Tammy Swarek, Michelle Jones, Cody the Crested Yorkie, Nena McGaugh and Tammy Michael. Mabel Swarek, seated right, watches at the South Arkansas Arts Center on July 29.
Swarek said when photographing shelter dogs, her favorite part is "all of it."
"It's actually a lot more fun for them than people's personal pets because they spend so much time in a little space and we let them have a hay day with us," she said. "Shooting them is fun, dressing them up is fun, the looks they give us … It's just all fun."
UCAPS dogs that will be featured in the book include Honey-Go-Lightly, Satchi, Penny, Arby Lou, Hitch and Radar.
Canine celebrity Dalmatian and model Molly visited El Dorado last Sunday to be photographed for the book. Molly is a 6-year-old fire service dog and honorary fire marshal for the Little Rock Fire Department.
She also serves as the official mascot for the Keep Kids Fire Safe Foundation as "Molly the Fire Safety Dog."
Molly's owner, Dayna Hilton, said Molly has physically visited 30 states and Skyped with children from 44 states and 26 countries.
According to Molly's bio, she has appeared at events with the Chicago Bulls and a number of celebrities. She delivered the first pitch at a Minor League baseball game, helped break a Guiness Book of World Record, appeared on "Fox & Friends" in New York City and has been featured in numerous publications around the world.
She is also a background extra and an ambassador for the upcoming IMAX movie "Superpower Dogs," which is set to come out next March.
Hilton said she first met Rubio in 2014 during a fashion show fundraiser and had been following him on social media for a while.
"It was a true honor to be able to finally get to meet him and now to be able to participate in a project that he's working on," Hilton said.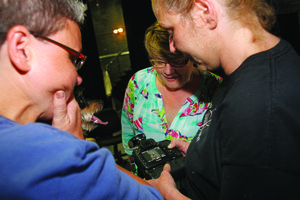 Photo by Terrance Armstard
Photographer Tammy Swarek shows Nena McGaugh, left, and Michelle Jones photos of Cody the Crested Yorkie at the South Arkansas Arts Center on July 29.
Celeste Pfau traveled from Pensacola, Florida, with her three dogs: Bailey, a rescue border collie, Madeleine Grace and Oliver, two Yorkshire terriers.
"I'm just super excited and this is something I'm going to treasure forever," Pfau said. "Unfortunately, more time than not, we outlive our pups, our babies. I have no kids so these are our babies. We have our own photos, but this is extra special."
Pfau said Madeleine Grace and Oliver are models and Oliver has previously won a contest at an event in Charlotte, North Carolina.
Pfau said she usually has the dogs dressed up and in strollers, but joked that she brought them "naked" to the photo shoot to be put in the couture clothing.
Pfau said she found out about the project through a friend in the United Kingdom who knows Swarek.
"(Rubio) had it on the Kickstarter campaign because he was just seeing if it would fund, and it overfunded," Pfau said.
Angela Harper Hooper drove 18 hours to El Dorado from North Carolina with her family and their dog, Rosie.
"Everybody seems so nice and sweet and I love it," Hooper said, referring to El Dorado. "I just think that it has a hometown feel, not a city life. I love the hometown feel of it and everybody has been wonderful."
Maguire said Rubio has dedicated four pages of his 200-page coffee table book to the shelter dogs from UCAPS.
Rubio said on his website that he has personally created each and every design that the dogs will wear.
"In the past, the photo shoots of my designs would feature a mixture of the dogs of my clients, dogs that are looking for their forever homes and your favorite social media pups," Rubio said on his website. "With the Canine Couture (working title) book, I will include dogs from the various shelters I've worked with. I will tell their stories and seek new shelters to partner with."
Kaitlyn Rigdon can be reached at 870-862-6611 or [email protected]
CORRECTION
This article has been updated to reflect that Molly is the mascot for the Little Rock Fire Department.