When destination developer Roger Brooks was hired nearly a decade ago to develop an action plan to change the trajectory of El Dorado's fortunes, local leaders learned that a champion would be needed to implement the plan.
Brooks's work introduced the "Festival City" brand idea for El Dorado.
Now, the effort — and the community — has lost one of its biggest champions, a visionary who took on one of the leading roles in developing the blueprint for one of the most ambitious and transformative projects that has taken place in El Dorado in decades.
Edwin Boyd Alderson Jr. died Thursday, following a bout with cancer. He succumbed to the disease just days after the grand opening of the Murphy Arts District.
MAD was the fruit of several years of labor that had undergone several iterations since the 2010 rollout of Brooks's plan.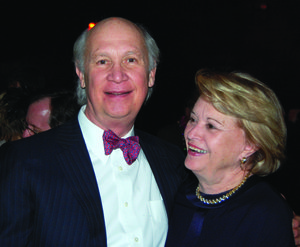 Photo by Janice McIntyre
Arts center fundraiser: Edwin and Diane Alderson – supporters of everything El Dorado – rarely missed an opportunity to raise money for the South Arkansas Arts Center. They also spent countless hours preserving South Arkansas history, working for the betterment of this area, including one of their most recent endeavors – El Dorado Festivals and Events and the Murphy Arts District.
A music lover, Alderson stood at the forefront of the effort, embracing the festival and theatrical-based project as a way to create a new industry in El Dorado — one that would make the city a top destination for festivals and events in the south, create jobs and attract visitors.
As a member of El Dorado Fifty for the Future Alderson led the charge to create the private non-profit El Dorado Festivals and Events, Inc.
Festivals and Events went to work to secure funding, assemble a team of specialized architects and put together a staff that made MAD a reality.
When illness befell Alderson, Festivals and Events forged ahead to lay out his $100 million vision.
While Alderson, sadly, did not have the
opportunity to see MAD come to fruition during its Sept. 27 — October 1 grand opening celebration, his imprint is all over it, friends have said.
The oldest son of Jewell Sample Murphy Alderson and Edwin Boyd Alderson, he was a sixth-generation resident of Union County.
A 1958 graduate of El Dorado High School, Alderson attended the University of the South at Sewanee, Tennessee, where he graduated in 1962 with a degree in philosophy.
He completed a year of post-graduate study in philosophy at the University of Georgia.
Alderson earned his Juris Doctor degree from the University of Arkansas and returned to El Dorado as an attorney with Crumpler, O'Connor, Wynne and Mays, and later, with Murphy Oil Corporation.
In 1969, he and William C. Nolan, Jr. formed the law partnership of Nolan and Alderson.
They entered into a business partnership to purchase a group of radio stations in 1970 and launched Noalmark Broadcasting Corporation, which expanded to over 20 radio stations in three states.
Alderson's interest in the radio business began during the early years of rock and roll when he started collecting 45 RPM records and participated in a local radio show with George Bramblett called "The Sharps and Flats."
The show was broadcast on KELD in El Dorado
In 2010, he donated some of those 45s and classic vinyl LPs to the Rock and Roll Hall of Fame Museum in Cleveland.
The presentation was made to Terry Stewart, then-president and chief executive officer of the museum.
Stewart previously met Alderson when he and his wife Diane visited Cleveland and the RRHF.
The Aldersons invited Stewart to their home in El Dorado and made return trips to Cleveland to attend shows at the RRHFM, bringing friends Madison and Suzanne Murphy with them.
The group became supporters of the Rock and Roll Hall of Fame Museum, and Alderson shared his fervor for the burgeoning MAD project with Stewart.
"Edwin and I talked about what they were doing here in El Dorado and asked if I wanted to get involved," Stewart recalled.
Stewart would later become CEO of Festivals and Events/MAD.
Alderson acquired the affectionate nickname "Judge" for his varied judicial affiliations and contributions to the judicial system in the city and state.
He was a lifetime member of the Arkansas District Judges Council.
In 1991, he was appointed to serve as a Special Chief Justice of the Arkansas Supreme Court. Alderson served two, six-year terms on the Arkansas State Board of Law Examiners.
He also served on the Arkansas Judicial Ethics Advisory Committee since its inception in 1992 and served as its chairman until his death.
Alderson earned the reputation of getting things done — was a prevailing sentiment that was shared by community leaders and friends:
• "Edwin Alderson was a true Renaissance man who was interested and informed on every subject that came his way. In addition, he was a compassionate person and an unfailingly caring human being. His love of music and politics always made it such fun and a privilege to be in his company, and his contributions to El Dorado and the state are immeasurable. Barbara and I loved Edwin dearly, and will sorely miss him." – David Pryor, former U.S. Senator & Congressman, Governor, and Founding Dean of the Clinton School of Public Service.
• "I knew Edwin for quite some time, but over the past six years when it became my honor and privilege to work closer with him, deeper, more personal impressions were formed. In 2012, I became involved with (Festivals and Events) on a possible project meant to better the lives of El Dorado residents. Edwin was a founding member of (Festivals and Events) and his involvement and support in that project were limitless. He was instrumental in acquiring downtown real estate where MAD is now located. Both (MAD President and Chief Operating Officer) Austin Barrow's return and Terry Stewart's relocation to El Dorado to fill top, vital MAD positions are owed to him as well. One characteristic I admire about Edwin is his encouraging spirit; it was infectious. With a smile on his face, he'd proudly share his fondness of El Dorado and all of the great things going on. Edwin was exceedingly generous with his time, his wealth and his knowledge. For these reasons and so many more, he is missed already." – Brett Williamson, general manager of Murphy Offices, LLC.
• "Edwin Alderson was one of El Dorado's finest citizens. He was a friend to me. He was proud of his family heritage and sharing that heritage with the younger generations. One of my prized possessions is a copy of "You're Getting A Jewel" (a book about the Alderson family). Edwin was El Dorado, straight with no chaser." – Shea Wilson, former News-Times managing editor.
• "I believe the Edwin Alderson I knew was a fine Christian man and one of the finest Bible teachers I've ever sat under. He was a good, close friend." – Richard Mason, Gibralter Energy/author and downtown developer.
• "What I remember about Edwin Alderson is that when I was (Union County) judge, he wanted to combine the county court and city court. Judge Alderson thought we needed to streamline those operations, so working with Judge Alderson, we created the district court. He was right. Things were much more efficient, and officers could come to one court. As county judge, I had a difficult time setting up that room in the (Union County Courthouse) for municipal court, and when I became mayor (of El Dorado), they dismantled that courtroom upstairs. It's where the conference room is now. Edwin Alderson was always concerned and interested in the community, and as mayor, I appointed him to the Civil Service Commission, and he served in that capacity." – Mike Dumas, president and chief executive officer of the El Dorado-Union County Chamber of Commerce, former El Dorado mayor and former Union County judge and coroner.
Visitation for Alderson will be held from 4:30 until 6 p.m. today at Young's Chapel. Funeral services will be held at 11 a.m. Monday at First Baptist Church on Main.
Tia Lyons may be contacted at 870-862-6611 or [email protected] eldoradonews.com.