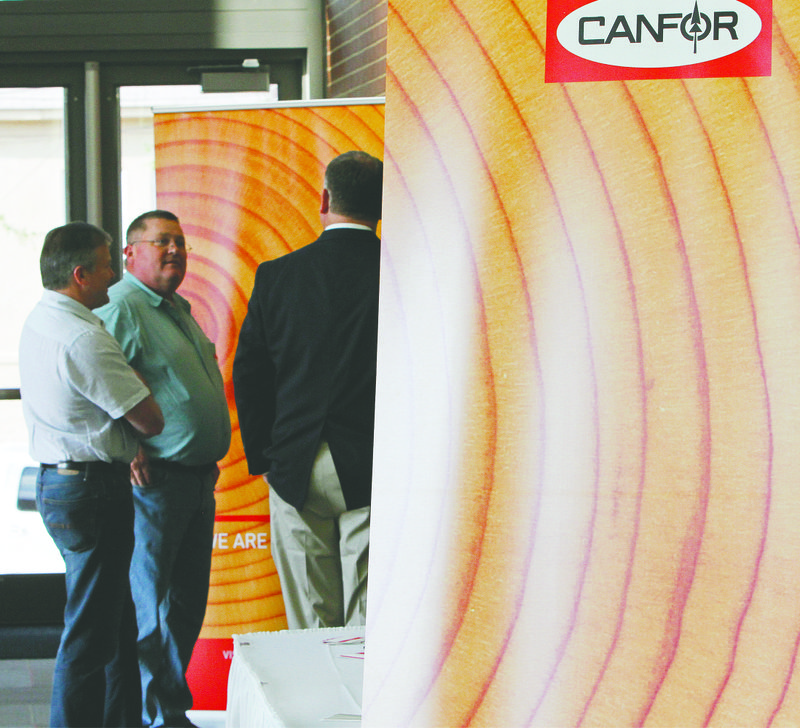 Meet and greet: Members of the community attend a reception by Canfor at the El Dorado Conference Center on Tuesday. Attendees received the opportunity to meet members of the Canfor senior executive team over cocktails and hors d'oeuvres.
News-Times Staff Report
EL DORADO — Canfor Corporation made their official debut in Union County with a meet and greet held at the El Dorado Conference Center on Tuesday. Canfor purchased Anthony Forest Products Company, located in El Dorado, in October of 2015. Anthony Forest Products "will continue to operate with the same management, sales and manufacturing teams," according to an Anthony Forest Products' press release.
Canfor Corporation was founded in 1966 and is headquartered in Vancouver, Canada.
The company started buying sawmills in the southern U.S. in 2006. "Now we have 11 sawmills from North Carolina all the way down to Arkansas," said Fred Stimpson, president of Canfor, U.S. operations, Southern Pine.
Canfor is the second largest lumber producer in the world and chose to come to El Dorado for many reasons including the people, timber and the way the Anthony family ran their business. "We were drawn by the Anthony family and their organization they had built," Stimpson said. "The people, their facilities, their culture and the strategy that they had adopted to make money in the lumber business."
David Calabrigo, senior vice president of Canfor said the management team at Anthony Forest Products is what really attracted them. "We're committed to this mill and to this community, and we're committed to the history that the Anthonys built to run this mill," Calabrigo said.
Since Canfor purchased Anthony Forest Products, they have invested almost 15 million dollars in operations, Corinne Stavness, senior director of corporate affairs said. "And we've got more plans. We really just see a bright future here in Arkansas for our company and we're proud to be part of the community," Stavness said.
Sponsor Content
Comments