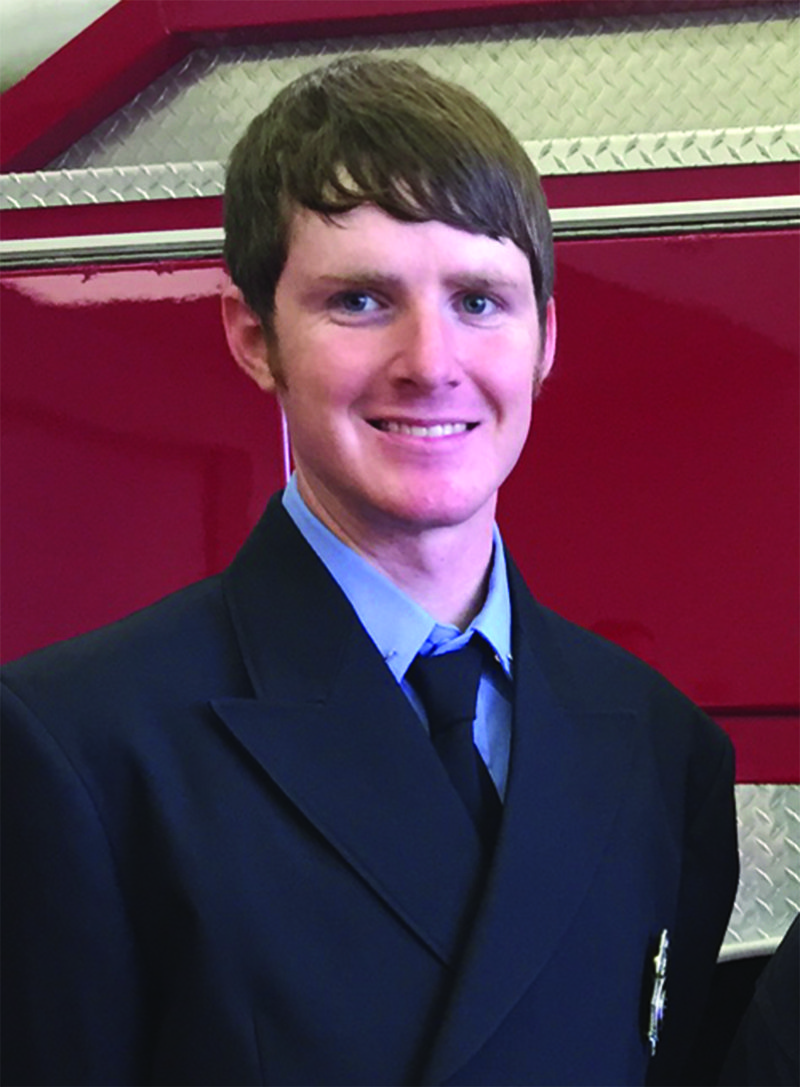 Sewell
By Tia Lyons
Staff Writer
An El Dorado firefighter who was seriously injured in a single-vehicle automobile accident in late June is back home and continuing to recover with an ambitious plan of returning to work by next spring.
Lt. Trey Sewell, an engineer with the El Dorado Fire Department, lost part of his right leg when his pickup struck a bridge on June 30 on U.S. 82/Magnolia Highway, just west of town.
Sewell was transported to LSU Health Shreveport (Louisiana), where he underwent several surgeries for a fractured pelvis, a shattered kneecap on the left leg and severe damage that led to the amputation of his right leg below the knee.
Sewell also sustained other soft tissue injuries, Fire Chief Chad Mosby previously said.
The accident occurred at approximately 10:22 a.m. as Sewell headed east into town.
Arkansas State Police, who investigated the accident, said Sewell lost control of his pickup truck as he rounded a curve near a small bridge.
The ASP said his truck struck the guardrail of the bridge on the south side of the highway, bounced off the bridge, headed back across the highway and struck several bridge pylons on the north side of the road.
His truck then came to rest in the middle of the roadway, state police said, adding that the truck was totaled.
Troopers said Sewell was not wearing a seatbelt at the time. They said Sewell was still inside the vehicle when they arrived on the scene.
Sewell was transported by ambulance to Medical Center of South Arkansas, and he was later transferred to LSU in Shreveport.
He was moved back to MCSA on July 19 for rehabilitation and physical therapy services, and he received a warm welcome from family, friends and fellow firefighters.
Sewell went home from MCSA on July 28, said EFD Capt. Nena McGaugh.
"He's doing really good. They worked with him a lot to help him move around. Mobility-wise, they showed how to transfer from the bed to the chair and helped him with the use a walker," McGaugh said.
McGaugh is one of the captains at the EFD's No. 3 substation on Griffith, where Sewell was stationed.
McGaugh said Sewell, who has been with the EFD for nearly five years, still has several follow-up medical appointments in El Dorado and Shreveport.
McGaugh said Sewell has visited Hangar Clinic in El Dorado for consultations about prosthetics.
"They've looked at it. They really can't fit a prosthetic for it now because he still has sutures in his leg," McGaugh said.
She and Mosby said Sewell is in good spirits and the EFD is doing what it can to assist.
"He's committed to doing his therapy and rehabilitation and getting back to work as quickly as possible," Mosby said.
Added McGaugh, "We're working with him on walking and how to maneuver around. He's motivated and focused. He told me himself that he wants to be back to work in eight months."
She thanked the community for its support in a recent benefit, a hamburger plate luncheon, that was held to help offset medical expenses for Sewell.
"It was wonderful. The community participation was unbelievable. It was a success. I don't have the exact numbers, but close to 1,300 plates were sold," McGaugh said.
Another fundraiser
The El Dorado Professional Firefighters Local 1074 is planning a Benefit Bass Tournament to further help Sewell with medical costs.
The tournament will begin at 6 a.m. on Aug. 19 at Arlie Moore Boat Ramp on Lake DeGray in Bismarck.
Weigh-in starts at 2 p.m.
Cash prizes will be awarded for the top three winners. Door prizes will also be given away.
The entry fee is $100 per boat. Those who plan to attend are strongly encouraged to pre-register.
Late registration will be available on the day of the tournament.
Checks may be mailed to 222 Ouachita 150, Camden, Arkansas, 71701.
Registration information — including name, telephone number and total number of team members per boat — may be emailed to [email protected]
For more information, call Justin Green at 870-313-2123 or Emery Green at 318-455-1110 or message them on Facebook.
Tia Lyons may be contacted at 870-862-6611 or by email at [email protected] eldoradonews.com.
Sponsor Content