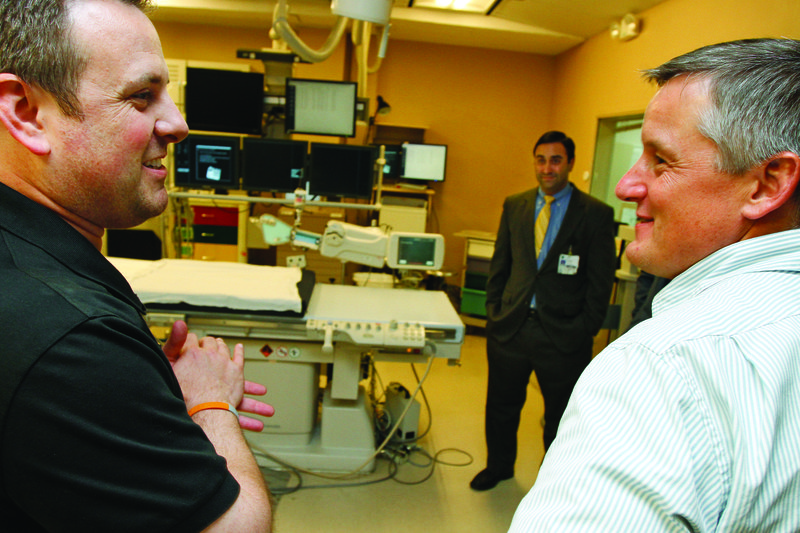 Tour: Taylor Thompson, Director of Cardiovascular Services at the Medical Center of South Arkansas, discuses the hospital's Cardiac Cath-Lab with U.S. Rep. Bruce Westerman (R-Ark.), right, and MCSA COO Ross Korkmas, center right, during a tour on Tuesday.
By Janice McIntyre
City Editor
EL DORADO — Concerns over low Medicare reimbursements, mountains of paperwork to meet government regulations and rising healthcare costs for everything from medicines to equipment, were some of the issues discussed Tuesday when Congressman Bruce Westerman visited with Medical Center of South Arkansas officials.
Westerman (R-AR 4th District) talked with Chief Executive Officer Robert Rupp, Chief Operating Officer Ross Korkmas, Chief Financial Officer Dale Maddox, and other hospital officials and toured the heart catheterization lab, emergency room area and the Women's Clinic.
Westerman said that only Puerto Rico has lower Medicare reimbursements than Arkansas and Rupp said the declining rate of reimbursements is a real concern faced by the hospital and requires hours of time to fill out required paperwork. He also told Westerman that he feels the private option for healthcare is good for the state and Arkansas is a leader for healthcare reform.
Rupp said that new requirements for paperwork to be maintained electronically are not helping hospitals. "We actually use more paper now," he said, referring to the vast number of federal regulations and copies required by hospitals to maintain ratings and comply with federal mandates.
Westerman said that Medicare went up 16 percent last year and healthcare costs are increasing all over the country, along with insurance deductibles and premiums.
Korkmas said that costs of medicines for patients keep increasing and reimbursements the hospital receives are less than what the drugs cost. "And the costs keep going up. Drug costs are huge," he said.
Hospital officials also told Westerman about the number of measures hospitals are required to record data to maintain ratings. "We do a fantastic job," of taking care of patients and complying with federally mandated record keeping, Rupp told the congressman.
Westerman mentioned the number of Fortune 500 companies that are headquartered in El Dorado, the El Dorado Promise — a $50 million gift from Murphy Oil to graduates of El Dorado High School — and the thriving downtown area, as means to draw medical professionals to El Dorado.
"If we can get people to come visit El Dorado, then they want to move and work here," Korkmas said.
Taylor Thompson explained the purpose of the heart cath lab and said with the equipment at the hospital, "We can look at any vessel in the body to check for blockages." MCSA is equipped and has the doctors to conduct open heart surgeries, coronary bypass, valve repair and numerous other medical procedures to repair the heart.
Sonya Justice, emergency room director, led the way to the 12-bed emergency room unit of the hospital and explained that last year, there were over 21,000 people treated in the ER, which is a level three trauma center.
The ER also works with ARSaves, a telemedicine program to provide virtual emergency support care for stroke patients. She showed Westerman the three-bed triage area of the ER and Catherine Noyes, director of marketing for the hospital, said patients who arrive in the ER are seen by a medical professional within 30 minutes after arrival at the hospital.
The Women's Center at MCSA was completed in January 2006 and has five labor and delivery rooms and 14 postpartum beds, according to Alison Stone, director of the Women's Center. She said one of the corridors leads directly to a surgical area in case an expectant mother needs emergency surgery. Stone said about 600 babies are delivered in the Women's Center each year.
Westerman maintains an office in El Dorado and he urged all constituents to contact his office with any concerns regarding healthcare, veterans benefits and other federal issues. His field representative in El Dorado is Ben Gilmore and the office is located at 101 N. Washington St., Suite 406 and the office number is 870-864-8946.
Janice McIntyre is the city editor of the El Dorado News-Times and may be reached at 870-862-6611 or by email at [email protected]
Sponsor Content
Comments